BSc Hons, M.A in Social Work, CQSW
Mrs Kulbir Kandola qualified in 1993 as a social worker with an MA/CQSW. Kulbir has extensive, wide ranging experience in the care sector, firstly as a Social Worker, then in registering and inspecting care homes as well as contracting adult services in the independent care sector on behalf of Nottinghamshire Social Services.
Kulbir's commitment and devotion to care then led her to purchase her own nursing home in 1996 and has built up a highly reputable nursing home care business in the Midlands with emphasis on highest quality of care. Her priority has always been to offer high levels of personal care in a homely, luxurious environment. Kulbir takes a close interest in the management of all her nursing homes to ensure that residents remain the number 1 priority at all times and that they are well looked after by friendly, genuinely caring staff.
Diploma of higher education in mental health nursing, Level 2 certificate in counselling, Diploma of higher education in complimentary therapies
Hi, my name is Lesley. I am delighted to introduce myself as the home manager at the Old Vicarage Nursing Home. My main priority for the nursing home is to improve on its already happy environment where residents feel genuinely at home whilst supporting colleagues to develop their skills and be genuinely inspired by their work. It is a privilege to listen and learn from our residents and I am here to help and support them and their families. I look forward to meeting you and answering any of your questions or queries and welcoming you into the Old Vicarage Nursing Home.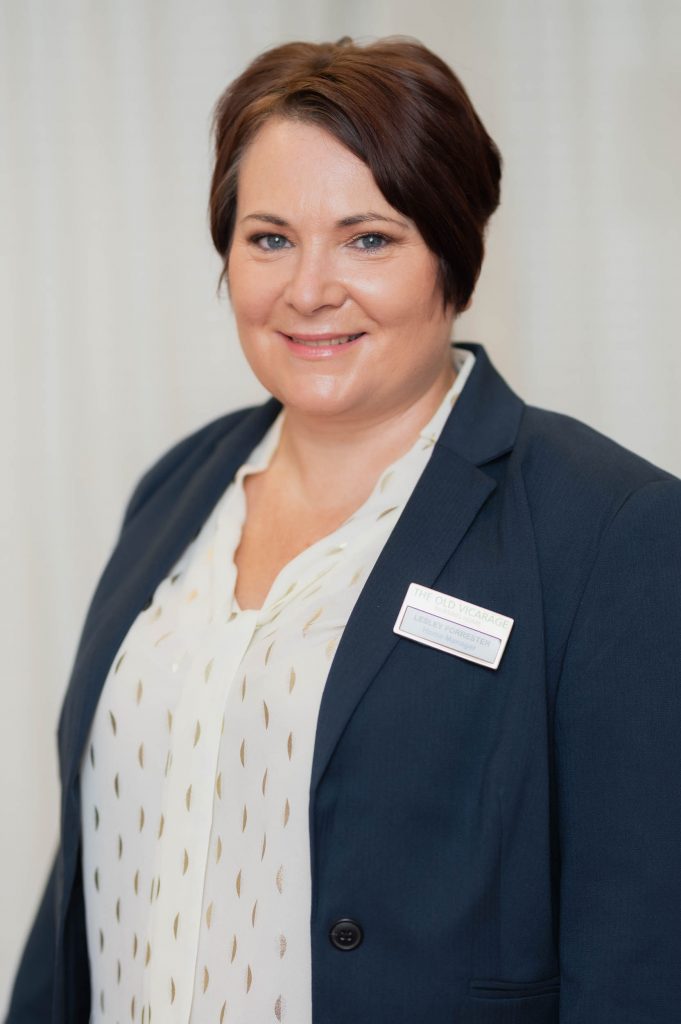 The Home Manager is supported by a Deputy Manager and a Clinical Manager. There is a full time Training Manager who delivers an extensive training programme to all staff. The management team is supported by an Office Manager and an Accounts Manager. The Manager can be contacted by emailing office@theoldvicaragenursinghome.co.uk.
"We have always been impressed by the professionalism of all the staff who helped mum retain her dignity to the end."
We have a team of highly qualified, experienced and compassionate nursing staff, care team leaders and care assistants. All care staff are required to complete the Care Certificate as a minimum standard. The Care Certificate is an agreed set of a minimum of 15 standards that sets out the knowledge, skills and behaviours expected of the role of a Carer.
We have a full-time activities coordinator who organises activities in line with the requirements of the residents. Our staff are chosen for their caring attitudes, compassion and they like to go the 'extra mile' for their residents. Resident and relative feedback repeatedly praises staff for their passion and commitment to their residents.
We have a team of staff in the catering department led by the Head Chef. The Head Housekeeper manages a team of housekeepers and laundry staff. We have a full-time Maintenance Manager to ensure the Home is maintained to a high standard at all times and we employ a part-time gardener in order that the grounds are well maintained. All staff ensure high standards of service are provided to our residents at all times.
Staff are regularly supervised on duty and we provide good staffing levels to ensure that the high standards of care are maintained. Each member of staff has a regular formal meeting with a manager to review their performance and to consider any ideas they both have. Everyone receives an annual appraisal with the Home Manager. The Home has been accredited with Gold Award in Investors in People which is a national standard measuring the quality of supervision and management of staff. The Investors in People accreditation is reviewed every three years to ensure the Home continues to comply with the IIP Standard.
We provide regular training to maintain and improve standards, and to ensure staff skills and knowledge are kept up-to-date. New staff complete a comprehensive induction course. The majority of the training is delivered by our Training Manager and external training is provided where needed. The nurses attend regular clinical updates.
"Many thanks also for the friendship, support and welcome you have also given to me."